Training Needs & Risk Assessment
Evaluate and Build Your Training Program
Financial services are one of the highest regulated sectors. With the turbulence of the current pandemic, rapidly changing regulations and the acceleration of digital transformation, employees must complete new tasks at high speed while ensuring compliance and excellent customer service.

How Does Your Training Program Measure Up?
As your trusted training partner, OnCourse Learning provides a comprehensive training assessment of your financial institution's compliance and professional development education programs. The purpose of this training assessment is to help you identify gaps and develop a plan for your financial institution and provide a framework for developing the training programs your financial institution needs.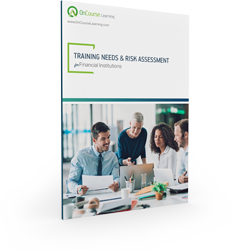 The Training Needs & Risk Assessment is designed to provide:
A consultative evaluation of your current training programs

Data-driven insights into your job specific training gaps and how to close them

A deeper understanding to how your training programs drive business goals, objectives and collaboration with management

Methodology framework for creating flexible and systematic training programs
Ready to Take Your Training to the Next Level?